"I only know how to approach a place by walking, for what does a street photographer do but walk and watch and wait and talk, and then watch and wait some more, trying to remain confident that the unexpected, the unknown, or the secret heart of the known awaits just around the corner."
— Alex Webb
Magnum photographer Alex Webb (San Francisco, 1952) is world famous for his street photography. His photographs are vibrant, dynamic and he always is on the lookout for that fleeting moment in which everything falls in place. In his photographs Webb represents the world as a remarkable place where everyday life can sometimes reveal itself as a kind of epiphany.
Powerful shadows
Webb's photographs are characterized by rich, saturated colors. Regularly they are intersected by powerful shadows. His curiosity invariably leads him to borderlands, the edges of societies: places where cultures converge, sometimes clash, sometimes merge. 
Pioneers
Webb is considered to be one of the second generation of pioneers of color photography. Museum Helmond has the privilege of showing the first ever survey of Webb's oeuvre which encompasses more than forty years of photography. 
Large-format
The exhibition presents about 80 large-format photographs shot in the Caribbean, Haiti, Mexico, Cuba, Latin America, Europe and the USA. In addition, the museum presents a continuous screening of his short film about Istanbul, the city of a hundred names: ancient and modern, Islamic and secular.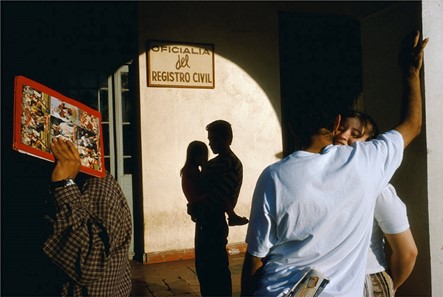 Alex Webb, Nuevo Laredo, Tamaulipas (MEXICO), 1996 © Magnum Photos/Alex Webb