Museum Helmond hosts an exhibition on nearly a century of weddings at Helmond Castle (Kasteel Helmond). The castle was first used as a wedding venue in 1923. This is reason enough for the museum to explore its history and show the public how people were married at Helmond Castle in days gone by. The highlight of the exhibition is a bridal gown made from Royal Dutch Wax, a fabric created by Vlisco Helmond.
The Exhibition Voor elkaar gemaakt ('Made for each other') presents the nearly a century of weddings at Helmond Castle through a selection of wedding photos and several historic bridal gowns. What makes this exhibition so unique is that many of the gowns and wedding photos were lent by members of the general public – couples who themselves were married at the castle. The exhibition was made possible with the help of the Rabobank Coöperatiefonds.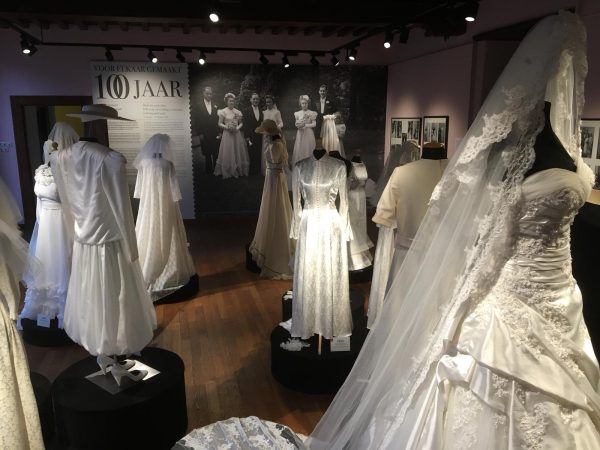 The best day of your life…
Initially, the castle was used for the legal portion of the wedding, making it a formality. The ceremonial part was held in the church, where the bride donned her most beautiful dress. This began to change in the 1960s, when weddings were increasingly considered to be exuberant and personal celebrations. The exhibition includes several wedding elements that reflect the spirit of the age, such as the happy couple picked up by a Vespa or the bride wearing a pink velvet wedding dress. It also reveals how wedding dresses have changed over the years, from simple and modest to an abundance of fabric, ruching, shoulder pads, and pleats in the 1980s and 1990s. These days, weddings are considered huge celebrations that call for a dream dress and a dream location – like Helmond Castle.
Opening hours/rates
Helmond Castle is open Tuesday to Friday from 10:00 AM to 5:00 PM and on Saturdays, Sundays and holidays from 12:00 noon to 5:00 PM. The castle is located in the city centre of Helmond and is easily accessible by car and public transport. Admission to the castle and the exhibition costs €10 for adults; admission is free for children aged three and younger, for Friends of the Castle, and for visitors with a Museum Pass.