'Paradise Beyond' by renowned British-Nigerian artist Yinka Shonibare MBE was to be seen from 20 September 2016 to 12 February 2017. Visitors could visit major sculptures, installation, collages, drawings, photography and films from 2004 – 2016 . The exhibition coincides with a presentation of iconic Vlisco textiles, as the nearby factory produces the patterned fabric that is so often present in Shonibare's work.
Race, power and migration
This exhibition investigates ideas of race, class, power and migration. Shonibare's mastery lies in his ability to approach sensitive political, historical and cultural topics with a lightness of touch and humour. His work is vibrant and visually seductive, making the subjects he broaches accessible. The figures he depicts in his installations and sculpture are dynamic, caught in motion and clad in Victoriana costumes reproduced in batik fabric. Shonibare has a strong interest in history and each work navigates a specific idea or moment in time. The group of works here depict scenes of crises and problems essential to human nature throughout time: a search for paradise, greed, war and revolution and the displacement of native peoples.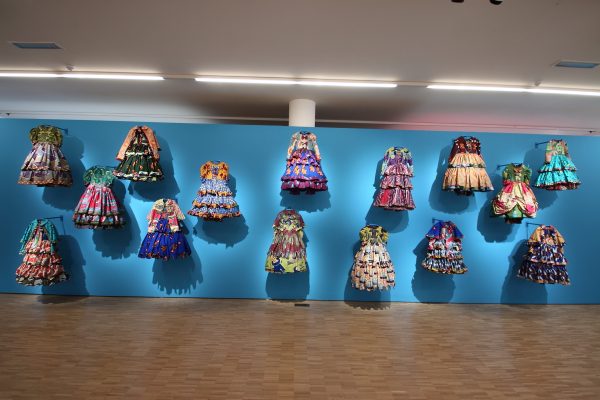 Dutch wax
Shonibare has used patterned Dutch wax batik fabrics in his work since the 1990s. The fabrics were inspired by Indonesian design, produced in Helmond and sold to the colonies in West Africa. In the 1960s the materials became signifiers of African identity and independence. Shonibare uses the textiles to represent the hybridity of identity as much as the implications of colonialism, and the coloured fabric has become a hallmark of his work.
Biography 
Yinka Shonibare MBE was born in 1962 in London and moved to Lagos, Nigeria at the age of three. He now lives and works in London. He graduated from Goldsmiths College, London in 1991. Shonibare was a Turner prize nominee in 2004, and was also awarded the decoration of Member of the "Most Excellent Order of the British Empire" or MBE, he has added this title to his professional name. He was notably commissioned by Okwui Enwezor at Documenta 11 in 2002 to create his most recognised work 'Gallantry and Criminal Conversation' that launched him on to an international stage.  He has exhibited at the Venice Biennial and internationally at leading museums worldwide. In September 2008, his major mid-career survey commenced at the MCA Sydney and then toured to the Brooklyn Museum, New York and the Museum of African Art at the Smithsonian Institution, Washington DC. He was elected as a Royal Academician by the Royal Academy, London, England in 2013.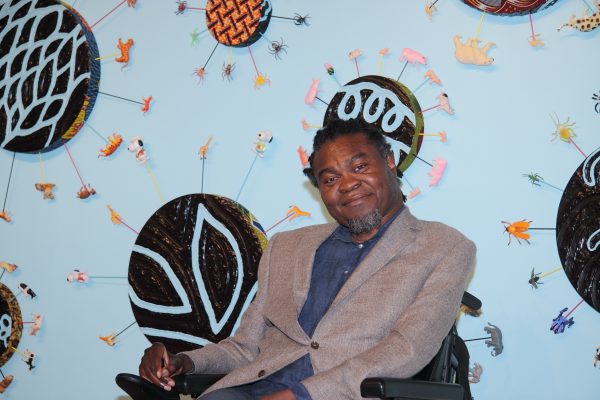 The exhibition was included in the extensive collaboration of the province of Brabant in concurrence with the proclamation of 2017 as 'Mondriaan to Dutch Design year', an initiative of NBTC Holland Marketing, The Hague, Leiden, Utrecht, Gelderland, Drachten and Brabant.